SCTP Link Failure Response Evaluation
Our intention is to determine the degree to which the emerging SCTP protocol, as relized in different implementations that we have examined, can tolerate link failures and yet provide continuous data delivery. [This effort is part of our ongoing effort to use SCTP under the TAO Orb.] Our test environment is as follows. Two computers (model details below) are populated with two 100 Mbps ethernet cards each and connected via a crossover cables per figure below. We use the "iptables" command to periodically take the links up and down as is also shown in the figure.
SCTP Timing Results For OpenSS7 Implementation
The following are results of our timing experiments using the OpenSS7 implementation of SCTP for the Linux kernel.

The following "quad chart" shows a comparative summary of our results todate. Currently the SCTP baseline test (where no link interruptions are happening) does not show any results beyond 1024 byte message sizes as things are unstable beyond 1 MTU message size.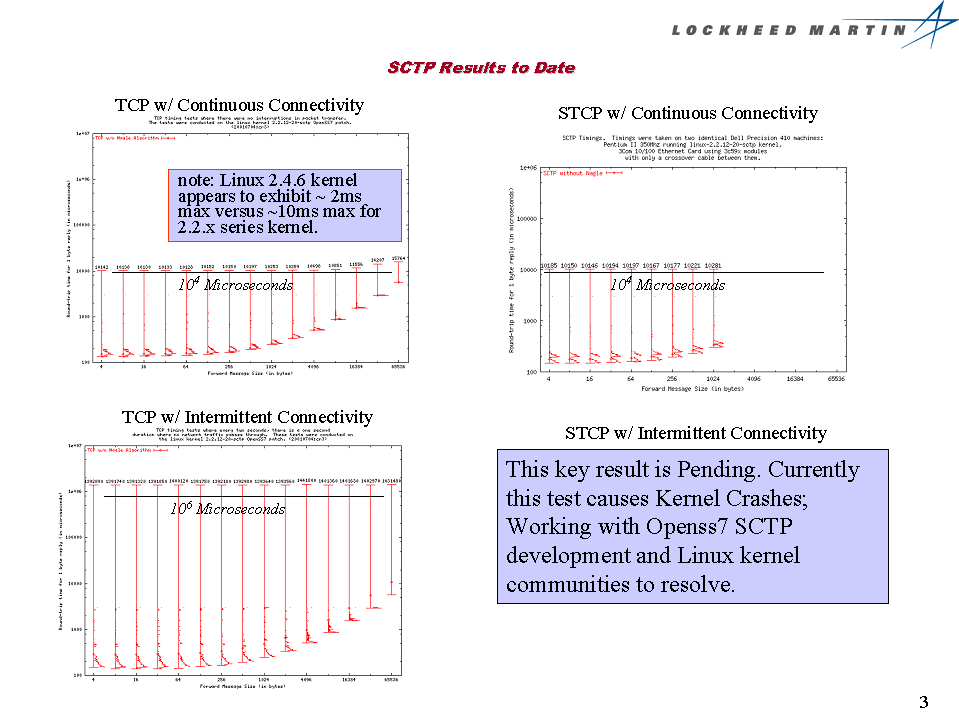 Results in Details.
Please follow the links for access to each of the test cases. As you view these charts you can mouse over each message size to view the statistics. In addition, a mouse click will further move you to the histogram for each message size.
The following tests were conducted between two Dell Precision 410's with dual 350Mhz Pentium II Processors. The kernel was only compiled for uniprocessor operation. The two machines were connected via a crossover cable with 3Com 10/100 ethernet cards at each end using the 3c59x kernel module. The kernel version was 2.2.12-20 with the OpenSS7 patch applied. The SCTP specific kernel options were only to compile SCTP as a module. No default values were changed.

Test 1 (Without Nagling)
Test 1 (With Nagling)

In an attempt to provide a gauge to how well the multi-homing feature of SCTP is, the following tests were conducted on the same machine using the TCP protocol. The same test programs were used, but we also had another process in the background which was adding and deleting filters with ipchains. This was one of the ways we tried to simulate intermittent network connectivity.

Test 1
Test 2
Send comments to Chuck Winters or Gautam Thaker
Copyright &copy 2001 by Lockheed Martin Corporation. All rights reserved. Use of this page is subject to restrictions.